Want to take your plumbing business to the next level? Maximizing your visibility to customers while providing top-of-the-line plumbing services can help you quickly grow your business. 
While print and physical advertising has worked to some degree in the past, the internet is the optimal way to reach customers and get the word out about your plumbing business.
Today we're covering 15 plumbing ad ideas & tips to get your ad campaign started.
1. Get A Website
It may seem like a no-brainer, but in 2022, there are still many businesses that don't have a website. Plumbing businesses are not seen as chic and glamorous and old-school plumbers may not see a need to have a website for their when it comes to plumbing advertising for their plumbing company. Even if you have a small operation, having a website is valuable and it could be the difference between success and failure. 
 A website not only helps to establish a professional presence but it provides the opportunity to create coupons and promotions and showcase other aspects of your plumbing business, such as links to social media sites. 
Unlike 20 years ago, setting up a website is no longer an expensive, time-consuming task. Platforms like Wix, Squarespace, and Shopify make it easy to set up a business website with little to no web hosting experience. Customized domains can be purchased for as little as $20 a year and there is no excuse not to have a business website in 2022.
If you aren't feeling up to building a website on your own, then we'd be happy to help! Hook Agency is a construction marketing agency that can help you build a beautiful website that can successfully market your business.
Why You Shouldn't Do Business Without a Website
A website gives you a professional presence. Over 80% of consumers think that a website gives your business credibility. With a website, not only can you advertise your plumbing services, but you can provide reviews and testimonials that certify your business as being legit. 
A customized URL and email address also adds legitimacy and professionalism to your site. A web address with a web host's name in it or a personal email address may signify that you don't care enough to put 100% of your effort into your business, making consumers question the quality of your services altogether. We're all for saving money, but it's also important to prioritize what matters. 
2. Google Ads
With Google Ads, you can get more customers and generate leads. Google is the leading search engine worldwide and when people search for plumbing companies, you can use Google Ads to keep your plumbing business from getting lost in the crowd. 
By using Google Ads, your plumbing company will appear at the top of the page when consumers search for plumbing businesses in your area. When you add a phone number to your plumbing ad, you can help potential clients connect to your business by offering a click-to-call button. 
3. Google Local Service Ads
Another great thing you can do for plumbing advertising is to use Google Local Service Ads. These ads target specific customers that are looking for a specific service related to your industry. Your plumbing ads will only show up for customers, who search for plumbing services in your local area and you only pay for the ad if a customer calls or messages you directly through Google ads. It's a great service that Google offers and if you're willing to spend a little time getting to the know the program and setting it up successfully, you'll be in luck! 
4. Social Media
Social media is a great way to promote your plumbing business. Sites like Facebook and Instagram offer advertising and paid promotional strategies that can help you get more traction in the industry and local market.
With Facebook ads, you can create campaigns and track them with easily readable reports. To use Facebook Ads, you choose your objective, select your audience, and decide where you would like to run your ad. You can choose to run your plumbing ad on Facebook, Instagram, or even on specific mobile devices.
5. Using SEO
Search Engine Optimization (SEO) is a technique that adds relevant keywords to your web content. When potential customers search for plumbing companies in your area, there are words and search terms that are commonly used. These search terms or words are called keywords. 
Adding relevant keywords to your web content will ensure that your services have a better chance of showing up in Google searches when customers are looking for services. 
Focusing on local search engine optimization keywords is also a good idea to help target potential customers in your local area. "Plumbing services" will give broad results, but "plumbing services in Brooklyn, NY" will narrow down your target audience and help to ensure that you're showing up where it matters. 
6. Email Marketing
Email marketing is a great way to connect with your existing customer base. Timing emails around holidays and special events will help your customers feel valued, instead of like they are being constantly bombarded with spam. Strategic timing for your plumbing ads is better than sending out large amounts of unsolicited emails. 
If you have a large customer base, it is important not to send out so many emails at once. Sending out large email blasts may trigger spam filters, sending your plumbing ads directly to spam and causing many of your customers to miss your email campaign altogether. 
7. Monitor Online Review Sites
Online review sites are a great way to keep track of your plumbing business's reputation. Sites like Trustpilot can make or break a company's reputation. Listening to customer feedback will help you know what you need to improve on and what you are doing well. Google and Facebook reviews are often vary influential in a customers decision on whether or not to choose your business for their project. 
For example. If your customers like your service, but feel like the prices are a bit high, this could be the perfect opportunity to offer a special deal or price reduction that may draw existing customers back in and create new customers as well. 
Don't forget to keep track of your reviews on social media sites. In addition, if you use Google Ads, reviews show up there as well. A good review connected to Google Ads will immediately establish your plumbing company as being trustworthy.
8. Use Pay Per Click
Pay-per-click (PPC) is a great way to make your business stand out. These paid advertisements appear at the top of the search results before organic listings. PPC uses a bidding system, where you select the keywords you want to trigger your ads and then you set a maximum bid for it. If you are amongst the highest bidders, your plumbing ad will appear at the top of the search results.
PPC takes constant monitoring and improvements to help ensure that your strategy is making money and not just spending it. If you're looking for help with ad management the Hook team could help you find more success with digital ads.
9. Brand Yourself
With so many other plumbing companies out there, how can you make your business and plumbing ads stand out from the rest? Branding is the best way to set yourself apart. A catchy logo will provide brand association that can help indivuals recoginze your marekting without even seeing your companies name. Using the right colors, text, and images will help grab the attention of potential customers and put you on the radar for former customers as well.
Making your brand logo visible in your plumbing ads will help solidify your brand in customer's minds. People often forget the name of a company, but seeing a familiar brand logo can jog their memory.
10. Giveaways and Contests
Everyone loves to be a winner and contests and giveaways are a great way to promote your business. It may seem counterproductive to give away a service for free, but giveaways can help get your plumbing business noticed and showcase the quality of your work. A customer, who receives top-notch service for free, is likely to choose that same plumbing company in the future and recommend you to all their friends. 
11. Customer Service
Customer service may be an afterthought when getting an ad campaign started, but customer service reps are on the frontlines of your plumbing business. 
With every call, email, or chat, customer service reps can promote new products, services, and any special deals that you are offering. Providing an incentive to the reps to promote the business will further push your campaign out to current and potential customers. 
12. Customer Referrals
Word of mouth is one of the best ways to score new customers. Hearing a personal testimony goes even farther than reading one online. By offering existing customers a referral bonus for referring new customers, you can grow your customer base exponentially. And, word of mouth is by far the best way to get new customers especially when you've got lots of glowing reviews. 
13. Cross Promotions
Cross-promotion is a great way to team up with local businesses and gain recognition for you both. As a plumbing business, you could offer cross-promotions with other home-related businesses, such as carpet cleaning or other repair services. Most consumers are inclined to try a new brand or service if there is a discount involved. 
14. Blogs
Starting a business-related blog can give existing and potential customers a more in-depth look into your business. Showcasing your staff lends credibility to your business, making them more relatable than nameless, faceless people of a competitor's company. With a blog, you can not only add words but videos. 
Blogs offer many advantages to SEO but they're also a great way to show case studies and services, before and afters, and completed projects that you're proud of. We always recommend having an active blog service.
15. Submit To Local Directories
Most people are not going to call a plumber from out of state, so connecting with your local community is a must. Cities, towns, and even neighborhoods often have a list of localized directories, so it's important to target potential customers near your business and surrounding areas. 
Posting plumbing ads in neighborhood newspapers or directories is a great way to introduce yourself to people who are new to the area. While print ad might not be the most effective way to advertise we can't argue with the fact that it does work from time to time.
Clever and Effective Plumbing Ads + Tips
If you're looking to grow your business, plumbing ads can maximize your visibility to customers. Although advertising does require an investment and time commitment, they help sell your plumbing services and benefit your business.
What are the Benefits of Plumbing Ads?
There's a reason why 33% of marketers use paid ads to improve their digital marketing strategy. Ads offer a host of benefits, including:
Increased brand awareness: 31% of people, when searching online for businesses, find it through an ad. People can't buy your services if they don't even know about it, and paid ads capture new customers that wouldn't have found you otherwise.
Ad targeting: With organic marketing, you're essential shouting into the void to anyone and everyone. With ads, you can target a specific audience (for example, your local community).
Affordable clicks: With pay-per-click, or PPC campaigns, you're only paying for the clicks you get. On Google, you can expect $2 for every $1 you spend.
Conversions: The main point of ads is to drive your audience to take action, or convert. If you have a great call to action (CTA), you can expect more qualified leads.
While print and physical advertisements have worked, digital ads are the present and the future. They are the optimal way to reach customers, spread the word about your plumbing business, and get the most out of your daily budget.
Before you move forward with advertising, you need to know what options you have, and how to make them successful.
Digital Ads: You Have Options
Google Ads for Plumbers
It's no secret: Most people turn to Google when they need answers or to find a business. There are about 5.6 billion searches on Google per day, making it a great place to run your plumbing advertising. When people are searching on Google, 90% of people don't go past the first page.
So how do you get on the first page? You have two options:
Search engine optimization (SEO): This is easier said than done, with constant algorithm updates to monitor and continous content creation.
Google Ads: These can get you at the very top of Google, with considerably less effort than SEO.
Using Google Ads, you'll cut through the noise and avoid your business getting lost in the crowd. Google Ads can be even more effective than SEO, because your potential customers won't have to search your entire website to find how to contact you. Add a phone number to your plumbing ad, you can help potential clients connect to you more easily.
Google Local Service Ads
Similarly to Google Ads, Google Local Service Ads go a step further and make your plumbing advertising more targeted, and therefore more effective. These ads target specific customers that are looking for a specific service related to your industry.
Your plumbing ads will only show up for customers who search for plumbing services in your local area. You only pay for the ad if a customer calls or messages you directly through Google ads.
Social Media Advertising
There are more than 3.5 billion active social media users today. On most of these sites, you can run advertisements that allow you to beat the algorithm and get in front of your audience.
These ads are a great way to promote your plumbing business. They also allow hyper-specific targeting, helping you speak to your target market and avoid spending unnecessary money.
Here are our tips when it comes to social media advertising:
Go where your customers will be: Advertise where your consumers are most likely to hang out. If they're likely on Facebook, you don't want to be running ads on Instagram. We highly recommend running surveys on your target market to learn what sites they're likely to be on.
Make your ads similar to your organic strategy: "Organic" marketing means you're posting to the site without paying for an ad. You want these posts to look as similar to your ads as possible, so your entire social media strategy is cohesive. Plus, it provides a branded identity that feels less jarring.
Experiment with different formats: You have a lot of options when it comes to these ads. Experiment to see what your audience repsonds best to. For example, try video ads.
Some General Plumbing Advertisement Tips & Examples
No matter where you choose to run your ads, here are some general tips that can help you on any platform:
Make sure your ads are on-brand: In the tips for social media marketing, we described that your ads need to be on-brand to prevent a jarring experience. It's worth repeating, because this is true for every ad you run. They need to be on-brand, conveying your brand personality.
Stick with one style: This point is similar to keeping your ads on-brand. You can choose different mediums, such as pictures versus videos, but they should all represent the same type of message. Keep your ads in the same style for some time before changing it, so people have time to get used to and recognize your brand.
Communicate a simple message: With ads, you don't have a lot of space. For example, with Google Ads, you only get 30 characters. To prevent confusion, keep your message simple and clear to avoid information overload. For example, these plumbing Google Ads are extremely clear: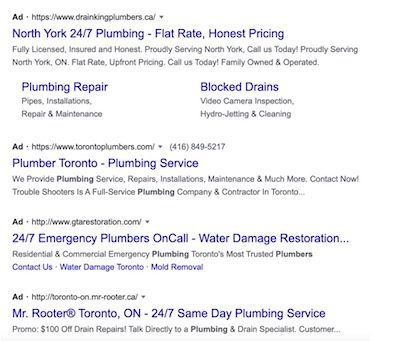 Make realistic claims: People are tired of hearing that everything is "the best" on the market. So take time to think about your claims, and even have some data to back it up: for example, "91% of our customers were happy with our plumbing services."
Use testimonials: Customer testimonials can help you generate 62% more revenue. It's called "social proof," and people want to see your happy customers and hear what they have to say.
Focus on the benefits your audience will experience: Make your ads benefits-focused, not features-focused. For example, rather than saying, "We'll fix your leaks," you can say instead, "Sleep stress-free knowing you'll avoid water damage."
Make sure the ad looks good: Equally as important as your message is the way your ad looks. Consider hiring a designer, or practicing yourself on a free design software like Canva. Make sure your ad looks professional and on-brand.
Address pain points: A pain point is a persistent problem that your company solves. Addressing these in your ads can be extremely effective. Check out this example from Griswold Well & Plumbing Services:
And that wraps up our list! We hope that you've found value here and that you're able to start applying some of these tips to take your business to the next level. If you're looking for a construction and contractor marketing agency to come alongside you and help to get your business more leads through persuasive web design, competitive SEO, and strategic PPC, Hook Agency would be happy to help!